Holiday shopping can be really difficult, especially if your list is long. What do you get that teenage niece of yours? What's the best gift for your child's classroom teacher? What gift could possibly be good enough for your mother?
Our Global Gifts family came together to help you out this year. We asked for everyone's favorite fair trade items - whether you're giving a gift to a friend, family member, or looking to for something to treat yourself.
Here's what the team had to say...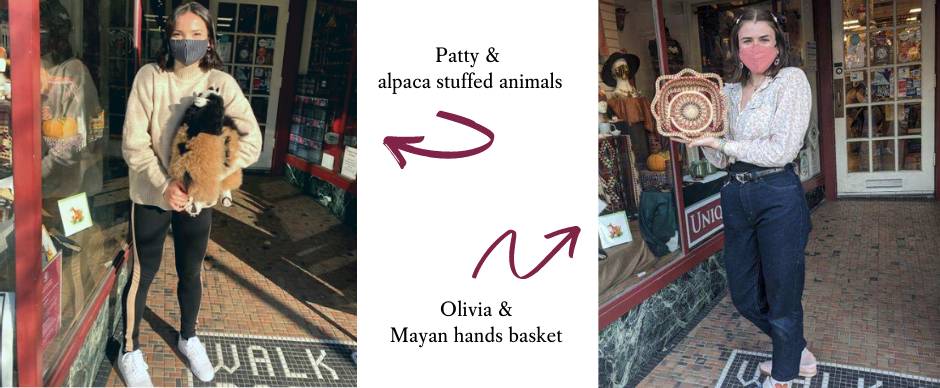 Patty Moon: Bloomington Staff
I love our alpaca stuffed animals! They are cute and cuddly - perfect for the winter season. 
Olivia McDermott-Sipe: Bloomington Staff
Olivia loves the Mayan Hands baskets! This design is her favorite because it reminds her of the snake from Beetlejuice.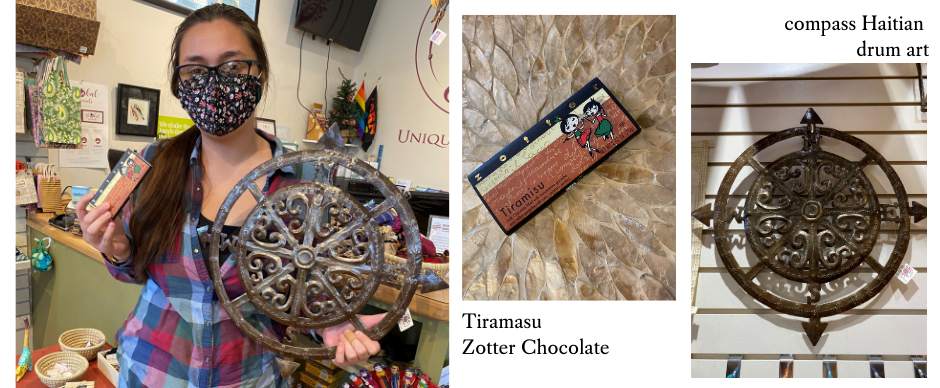 Kaylnn Kenekham: Mass Ave Key Volunteer 
Zotter Tiramisu is her favorite chocolate. She loves the perfect balance of coffee, chocolate, mascarpone and of course, rum! 
She loves the compass Haitian drum art because it reminds her of travelling which is one of her favorite things in the world.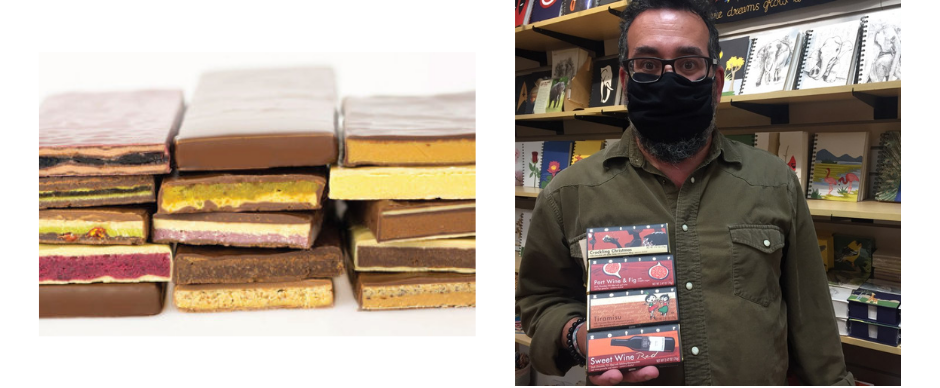 Dave Debikey: Bloomington Store Manager
Zotter chocolates are amazing! I love their unique and ingenious flavors. Treat yourself to some Zotter; you deserve it!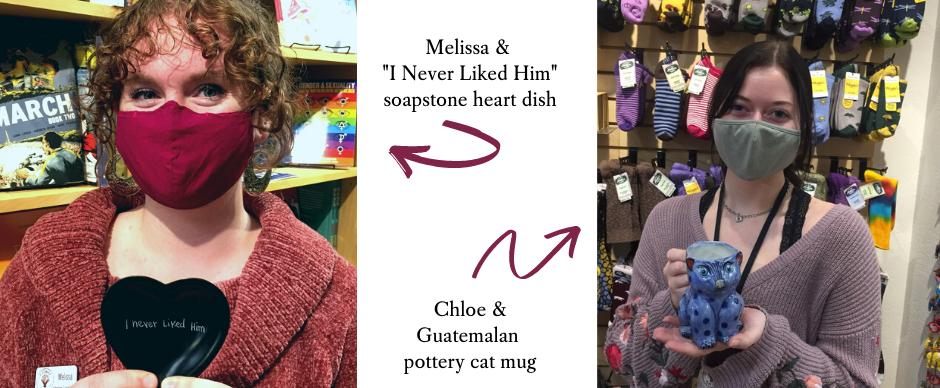 Chloe Halbert: Bloomington Volunteer
I love this cute and colorful cat mug! It's perfect for sipping some hot chocolate or warm cider on a cold day.
Melissa Adkins: Bloomington Staff
Melissa' favorite item is the black 'I never liked him" kisii stone heart dish. Its brings me joy every time I walk by it in the store. It's the perfect amount of sass & pettiness for your home that reminds you you're actually doing pretty great on your own.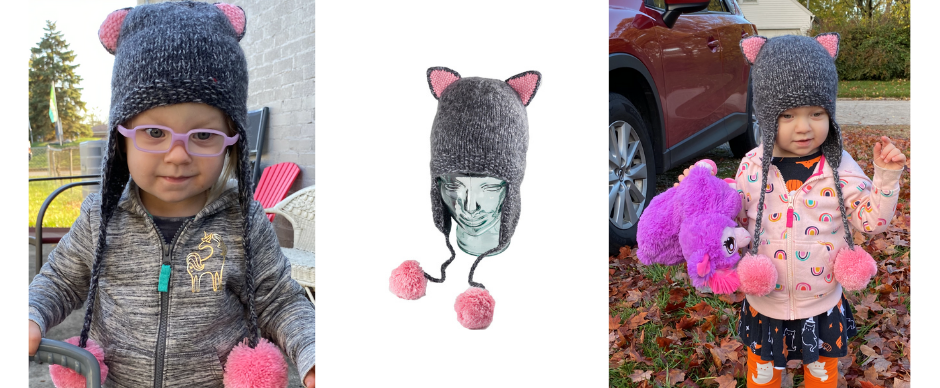 Parker Norris: Mass Ave Baby
Parker's favorite thing is her kitty cat hat. She love love loves her "kiddy kat meow meow's" and this keeps her cozy and warm during all the playing she does outdoors.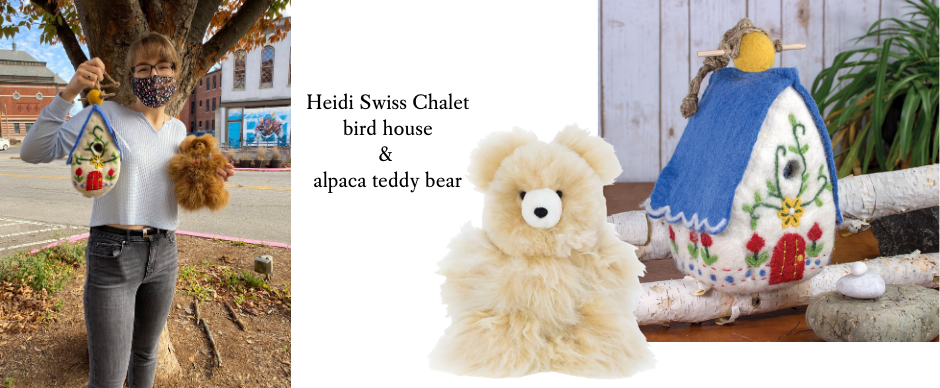 Linnea Holt: Mass Ave Staff
Linnea's favorite items are the Heidi Swiss Chalet Wool Felt Birdhouse to keep all the beautiful birdies safe and warm. She loves how these birdhouses can be left outdoors for all the season's and then once they do eventually start to breakdown, the birds take the wool and use if for their own nests. She loves the alpaca teddy bear because, look at his little face! He is the softest must snuggly teddy on the globe!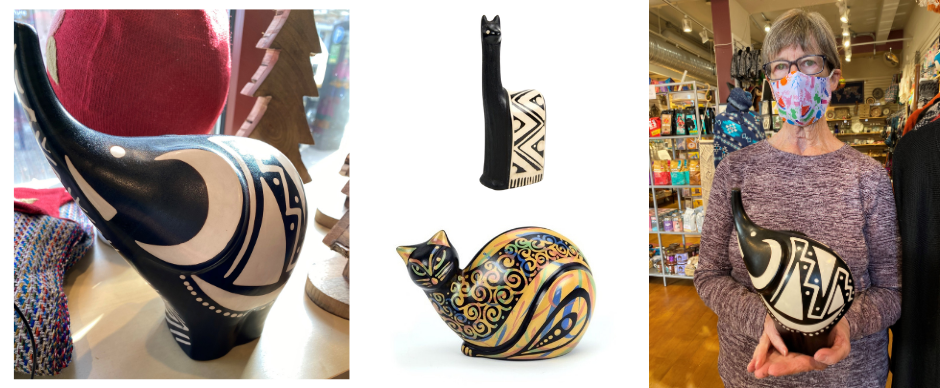 Lynne Watson: Mass Ave Staff
The chulucana elephant piece is one of her favs because in general, she loves elephants but especially loves how the black and white are so striking. Lynne fully appreciates the time and detail that goes in to crafting this into a gorgeous piece of art.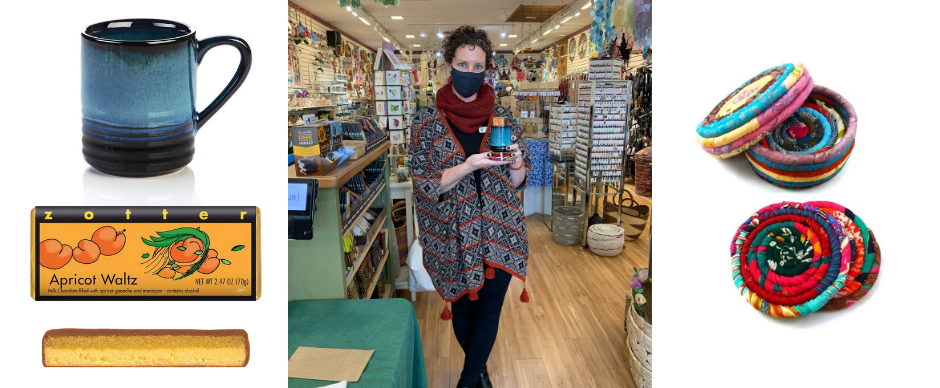 Nora Dee Shuppert: Nora Staff
"Because chocolate and apricots taste amazing together and you can never have too many mugs or coasters". Her picks are the Lak Lake Ceramic Mug, Recycled Sari Kitchen Trivet, and the Apricot Waltz hand-scooped chocolate. She is also wearing the Baby Alpaca Waka Open Cardigan that she purchased and loves.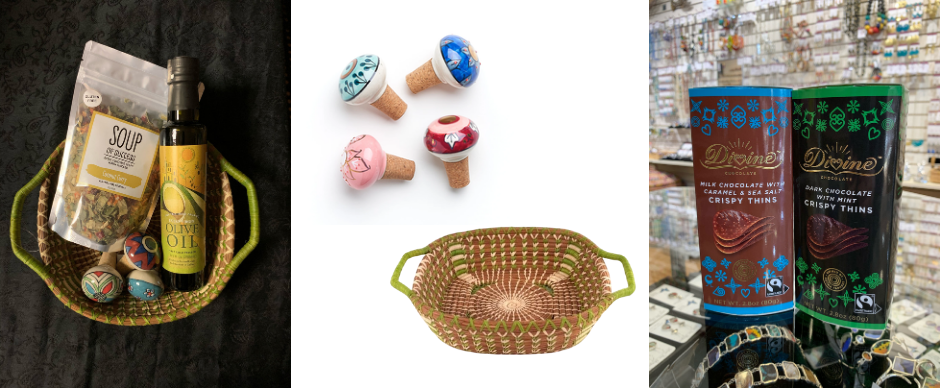 Kim Lingeman: Nora Staff
My pick is the Divine Chocolate Crispy Thins (in store at Nora only!). I think they are the perfect stocking stuffer for adults! 
Kinsey Davis: Nora Store Manager
"It is the right season for soup and I have been craving something that is comforting. I just moved into a new place and the wine stoppers are a new home gift to myself. And I am constantly impressed by the artistry of the Mayan Hands baskets and I love every single one of them. Another new home decor idea that is in my plans is selecting my favorites and creating a display using the Mayan Hands Baskets."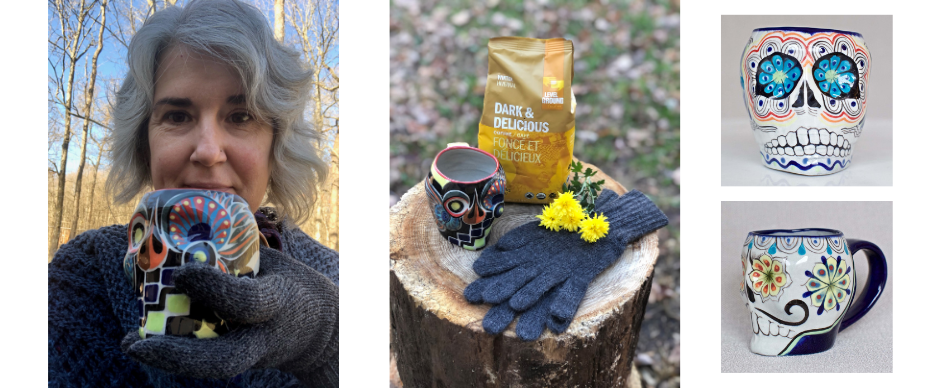 Alissa Head: Executive Director
Alissa has three favorites:
Lucia's Sugar Skull Mug from Guatemala. "Each mug is unique and a work of art."
Minga Imports Gelid Alpaca Blend Gloves from Peru. "These are a wonderful basic, soft and warm, and make a great gift for anyone. And they are sized, so they fit well."
Level Ground Dark and Delicious Winter Blend Coffee. "I look forward to this seasonal winter blend every year. It makes a special gift for the coffee lover."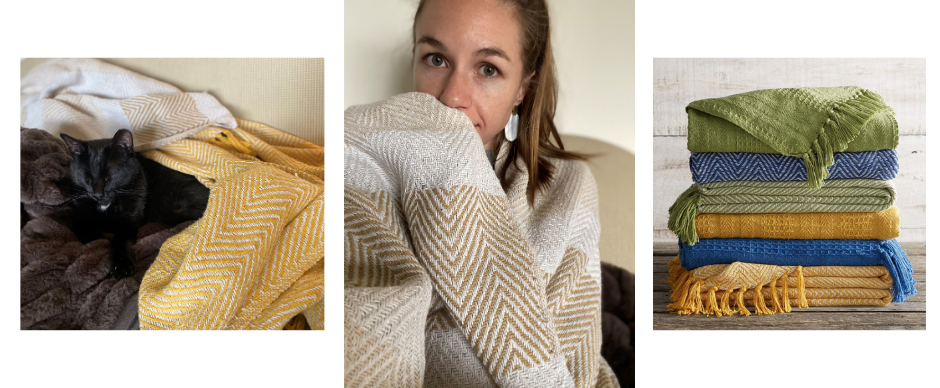 Sarah Swank: Marketing Manager
"My favorite items in the store, right now, are the Cotton Rethread Blankets from Serrv. The patterns are so pretty, they're extremely warm & soft, and they're easy to wash since they're made of cotton. I always have a blanket near my work space, even during the summer months, and have started buying them as gifts for others since I already have a few at home."