This month our team at Short North had a chance to recognize an outstanding volunteer and they nominated Sue!
Here's why: 
Sue is a long-time volunteer that started helping with what was a UNICEF store at Jefferson Center and eventually Global Gallery in the same location where Global Gifts took over in the Short North. When Global Gifts took over the site, she was asked if she wanted to continue volunteering with us. So basically, she said, "I came with the building!" 
When Sue is not volunteering at Global Gifts she is the Volunteer Coordinator for the Columbus Metropolitan Library. Sue supports Global Gifts in many ways both in and outside of the building through floor shifts and helping with offsites and sharing her wisdom at the Volunteerism Committee meetings.  
Sue - Thank you so much for everything you do and for just being your awesome self! We love you!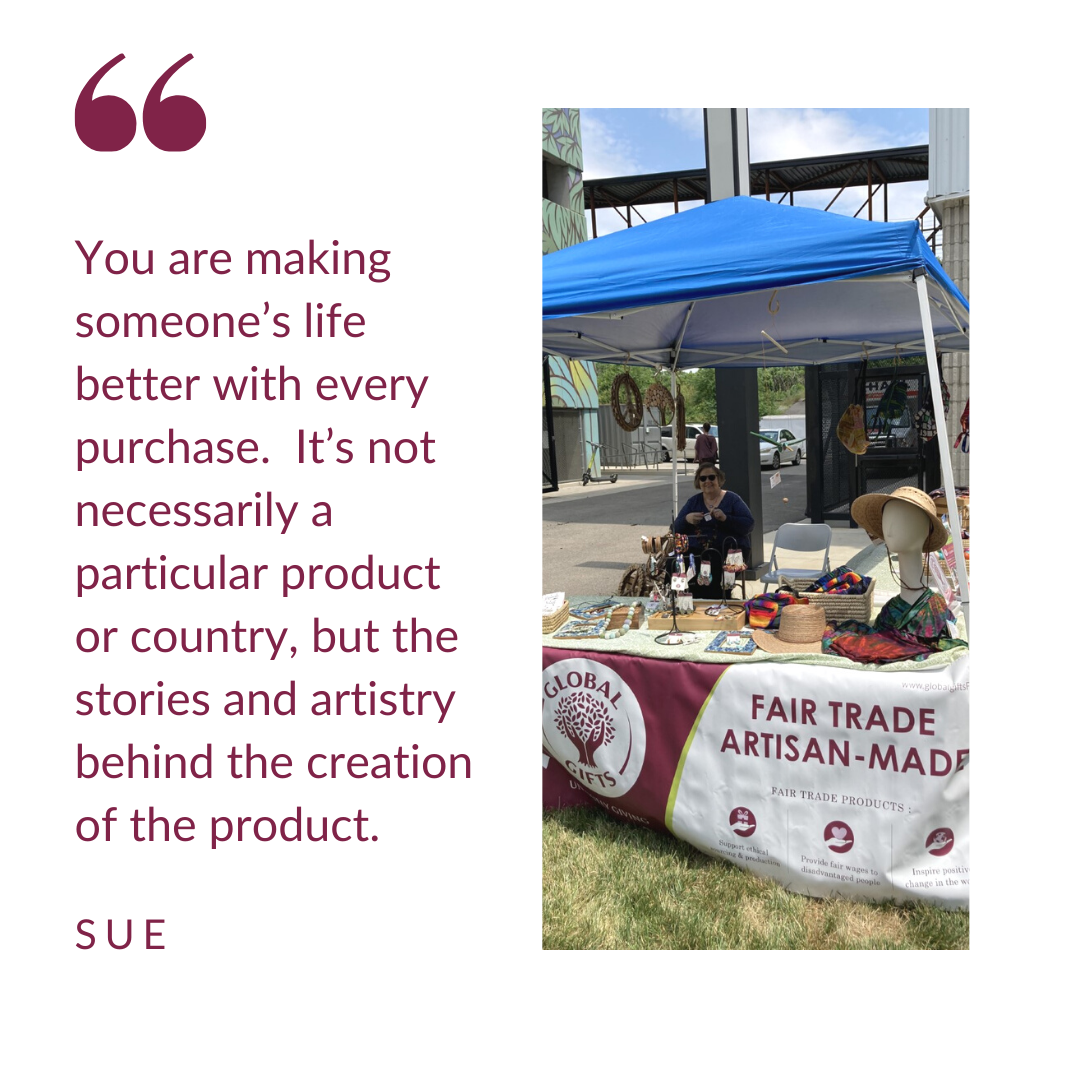 We got to talk to Sue about her experience as a volunteer. Here's what she had to say.
What inspired you to begin volunteering at Global Gifts?
By shopping at Global Gifts you are making someone's life better with every purchase. Volunteering gives me a sense of balance in life.  
What is your favorite Fair Trade product or artisan group?
It's not necessarily a particular product or country, but the stories and artistry behind the creation of the product. For example, when we had the rug event, I enjoyed talking to the sellers about the different motifs included in the rugs. As for the human interest stories, I remember when we started seeing the first silver-work again from Bali (Women's Peace Collective) after the Tsunami-killed all the original silver workers, a whole new generation had to be trained.
Any advice for new volunteers?
Don't be frustrated if you don't get it all at first, it will come, bit by bit. Eventually it will click, soak it all in, learn what you can. We are all here to learn and share. 
Feel inspired to join our team?
We always need volunteers and we'd love to have you! You can submit an application online here.