Kantha jewelry is made in India by a group of women who are working to support their families, their community, and themselves. Along with the Kantha fabrics that have a distinctive straight-line pattern to them, these artisans make unique jewelry from recycled materials that are full of color and style, and are sustainably-made.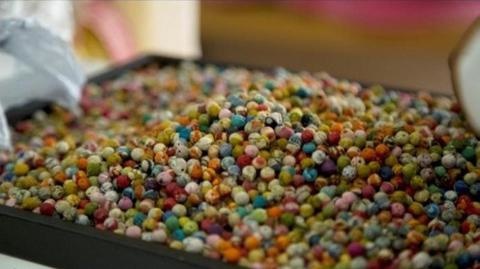 Jewelry-making skills have been passed down through many generations. Fair Trade economic development efforts over the years aim to transform the community of these artisans from a highly vulnerable area to a place where families, especially women and girls, feel safe from sex trafficking and are proud to call home. In a society where women are restricted, this gives women artisans a year round income from an ethical source, and they can work from home, in a safe environment. When you buy Kantha, you are supporting women who are empowering themselves. You can help them support their families and give them a better life.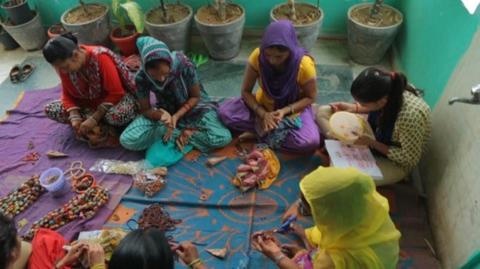 The Kantha bead has a wooden base that is carved out of scraps gathered from local factories. These beads are then hand covered with Kantha fabric recycled from old or worn out saris. A safe adhesive is then used to secure the fabric to the bead. Once several beads are made, they are strung together and wrapped with a wire to make a necklace, bracelet, or earrings.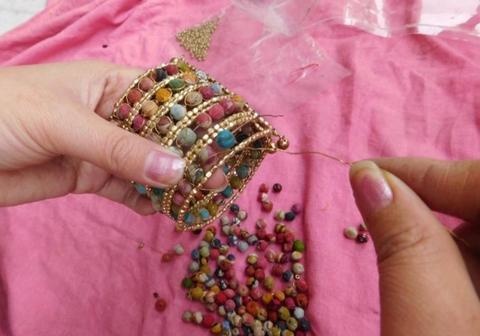 Along with these beautiful beaded pieces, artisans make Kantha jewelry from collected fabrics that are recycled and do not have beading. Artisans incorporate a modern feel and pleasing appearance to the jewelry using many colors and patterns.
New Kantha creations are arriving at Global Gifts stores all the time, so stop by a location near you to take a look!
Resources:
http://www.worldfinds.com/How-Its-Made-Kantha-Jewelry
http://www.wanderingsilk.org/meet-the-makers-kantha
[Photo Credit: www.worldfinds.com]