Catherine has volunteered with us at the Courthouse Square location in Bloomington since about 2018. We were super excited to honor her as our Volunteer of the Month. 
Here's why: 
Catherine is an absolute superstar. She is a self-starter, engaging, thoughtful, passionate about fair trade and sustainability, incredibly kind and funny, and the list could go on and on! She is not only a frequent volunteer, but also one who steps up to help when she can. When we needed more help through the pandemic, it was often Catherine who offered to fill in for empty shifts or emergencies. She has become a valued part of the team through her out-of-the box thinking and attention to detail - she is often ready with a new idea to make the sales floor function even better! 
Beyond just being an excellent volunteer, she is also a fabulous person. She is an open-minded and an incredibly kind person who can start the most fascinating and thought-provoking conversations. You can talk about something as difficult as climate change, but leave the conversation being inspired by her hope and positivity. Catherine has become a dear friend to many of us, and we are so grateful she decided to volunteer with us when she moved to Bloomington about 3 years ago.
Thank you, Catherine, for everything you do and for just being you! We love you!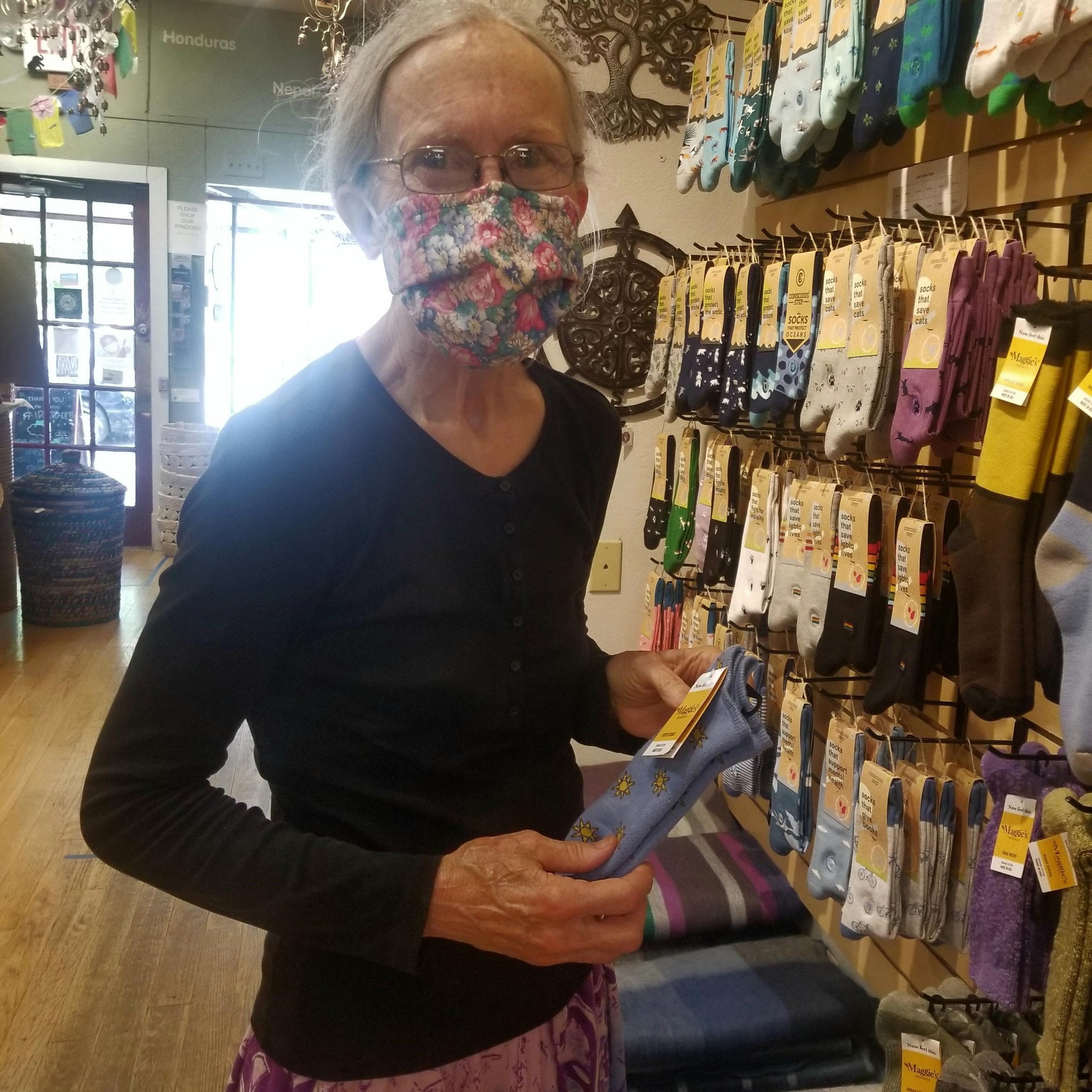 We got to talk to Catherine about her experience as a volunteer. Here's what she had to say: 
"From the first time I walked into Global Gifts, I knew I would like to volunteer there. The atmosphere felt welcoming and inclusive, which was something I wanted to be a part of. The shop has been all that and more during my time here. 
I find Global Gifts to be very involved in the community and a great resource of information on different humanitarian causes. I appreciate how much I have learned by talking with staff and other volunteers, reading available literature, and studying books sold at the shop. 
The products that are sold often carry the name and/or a short story of the creators of the items as well as the country of origin. It is fun learning more about the countries and the specific groups of people who are being supported by the workshops that employ them. It has been very rewarding to be able to spread this information to visitors of the store. 
Global Gifts is an exceptionally friendly place to work. The staff are very supportive and appreciative of the volunteers. The volunteers are a very pleasant group of people to spend time with."
Feel inspired to join our team?
We always need volunteers and we'd love to have you! You can submit an application online here.