National Coffee Day is coming up on September 29 and we wanted to share some of our favorite coffee items available in our store.
Fair Trade Coffee & Subscriptions
First up, of course, we have a wide variety of coffee choices from fair trade farmers all over the world. We sell whole bean and ground coffee beans in delicious light, medium, and dark roasts. We also have a coffee subscription service, in which you can sign up for to get coffee monthly delivered right to your door!
Coffee Tasting Pocket Journal
A great gift for the coffee connoisseur! This 64 page journal is designed to maximize your coffee review efficiency. Fair trade artisans from India collect cotton waste and pulp it to make a uniquely soft textured paper. Also available for whiskey, beer, and wine.
Coffee Monster String Doll Keychain
Made by fair trade artisans in Thailand, this little monster gives you the strength to face the day! Part of a group of characters known as "the String Doll Gang," this makes a perfect keychain ornament for the coffee lover.
Coffee Wood Measuring Spoon Set
This makes a great gift for the coffee loving cook! These measuring spoons are made with coffee wood by fair trade artisans in Guatemala. Not only do these help you in the kitchen, but they also help provide reliable and fair wages to skilled Guatemalans.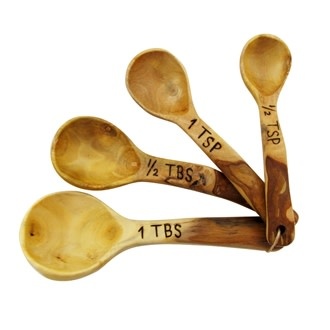 Fair Trade Mugs
What is the best way to drink fair trade coffee? In a fair trade mug, of course! We sell many different ceramic mugs that come from several different countries by fair trade artisans.
Read more about Fair Trade coffee:
4 Feel-Good Facts About Fair Trade Coffee
The Easiest Eco-Swap to Make for a Major Global Impact