Did you know that Global Gifts has been around since the 80s?
We've been operating since August of 1988, but our history extends back to 1982 out of Indianapolis. Check out our timeline to see how we've grown since our inception.
Precursor to Global Gifts – How it all started.
1982 – This is the year it all began! We started sales in Indianapolis when the First Mennonites Women's group purchased consignment box from Self Help Crafts for $1,250. Self Help Crafts originally operated through Mennonite Central Committee and later changed its name to Ten Thousand Villages and currently operates stores across the United States. 
1982-85 – Sales of Self Help Crafts expanded and were conducted through home parties, school bazaars and International Festivals by volunteers who kept supplies in their homes. 
1985-88 – Sales and displays began at the First Mennonite Church on W. 46th Street run by volunteers with store hours on Saturdays.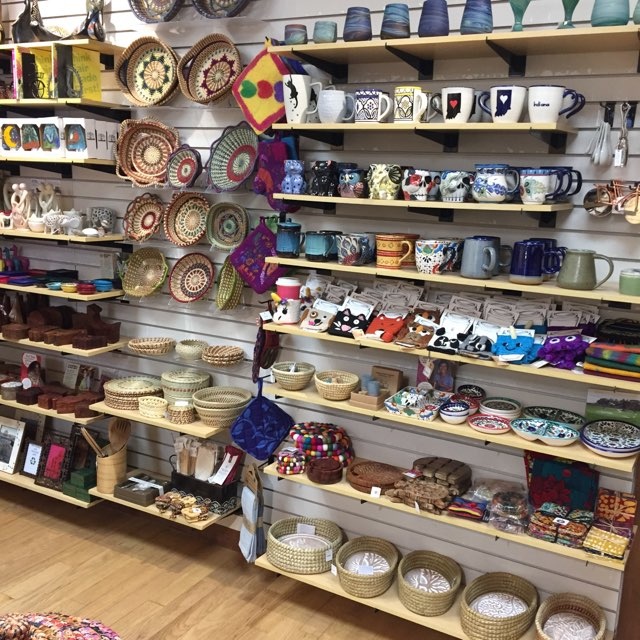 Inside our Bloomington store.
Global Gifts – The move.
August 1988 – Our store opened in retail strip mall at 7874 N. Michigan Road as a First Mennonite Church outreach project. Crafts were available six days a week in a shop run by 30 volunteers and a part time manager. 
April 1989 – Our team is growing! In 1989, we hired a community liaison for outside sales. 
February 1992 – Our retail space doubles in size. 
August 25, 1992 – It's a big year - Global Gifts is incorporated as a non-profit organization. 
December 1993 - Our sales reached $250,000 for this first time. 
February 1994 – Our store moves to North Willow Commons Shopping Center at 86th and Ditch with a full time manager and around 40 volunteers. 
September 2001 – Our store moves again to a larger space in North Willow Commons with a full-time Manager, a part-time assistant manager and 40-50 volunteers. Global Gifts started a partnership with UNICEF and had a section of the store dedicated to their products.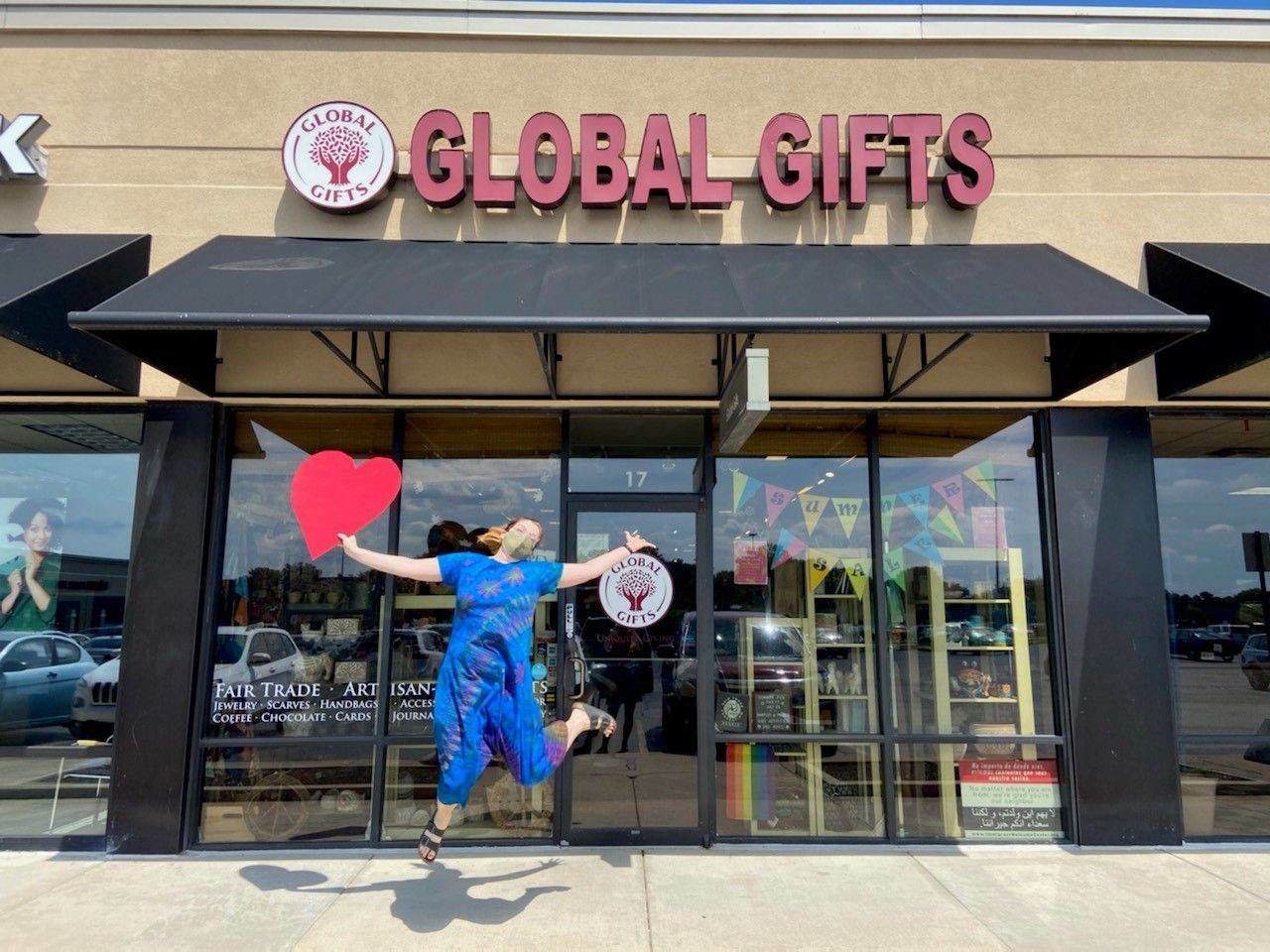 Our Nora store front and store manager, Kinsey.
2003 - We organized the first Helping Hands Festival, an event to provide a market for others who wanted to sell items on behalf of artisans in the developing world but did not have an established market to do so.   
2004-2005 – Planning begins for opening a second location. A seasonal store located south of Monument Circle in the same building as Borders Book Store opens with manager and 20 volunteers. 
2006 - We opened our Mass Avenue location in January with a manager, a part-time assistant manager and 30-40 volunteers. We also launched our website (globalgiftsindy.com). Organization wide sales reach $750,000. 
Our Mass Ave store front with our team celebrating Fair Trade month with our Move 4 Fair Trade walkathon.
2009 – We're expanding again. Our Bloomington, Indiana store opens with a full-time manager, a part-time assistant manager and approximately 30 volunteers. 
2010 – Global Gifts surpasses $1,000,000 in sales! We also continued our Helping Hands Festival.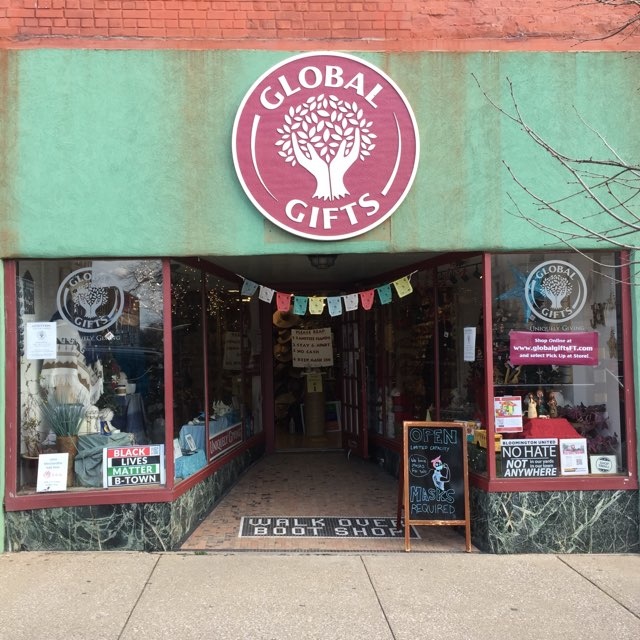 Our Bloomington store front.
Global Gifts – Our recent history. 
2014 - This year we opened our fourth store in Columbus, OH, with a full-time manager, a part-time manager, a part-time sales associate and approximately 15 volunteers. Global Gifts became wholesale distributor for the Imani Workshops (now Creation Hive), a fair trade group that provides sustainable income opportunities to HIV-positive artisans in Kenya under the Indiana University-Kenya collaboration. We hosted the Fair Trade Federation Conference in Indianapolis, launched online sales, and our sales exceed $1,700,000. 
2015 – We developed educational curriculum to promote fair trade principles in our community. Our sales exceed $1,825,000. 
2018 – Our new logo/marketing was introduced. We celebrated our 30th Anniversary on August 25th. To date, we have a total of 6 full-time employees, 20 part-time employees and over 300 volunteers. Sales for the year hit $1,694.497. Our Executive Director Sam Carpenter retires and a new Executive Director Alissa Head started in May. Our ecommerce sales grow to $16,590. 
2019 – Our annual sales hit $1,894,693, with ecommerce sales growing to $25,000. Our team is a total of 8 full-time employees, 20 part time employees, and over 250 volunteers. We see the introduction of 2 full time Volunteer Coordinators. We devise and begin a New Strategic Plan. We raise $4200 for Imani Workshops through a round up. 
2020 – Our new Marketing Manager Sarah Swank starts. We introduction of 2 more full-time Volunteer Coordinators, one for each store location. COVID-19 hits and our COVID-19 Relief Fund raises over $30,000. Our ecommerce sales grow to over $176,000. We start the JEDI Committee and the Local Initiatives Committee. Check out our impact video from 2020 to see all that we accomplished during this turbulent year.
2021 - A year in progress. We host our first Love Fair Trade fundraiser. We resume offsite events, and we are raising money for Creation Hive and other community organizations as we adopt monthly Roundups at the register.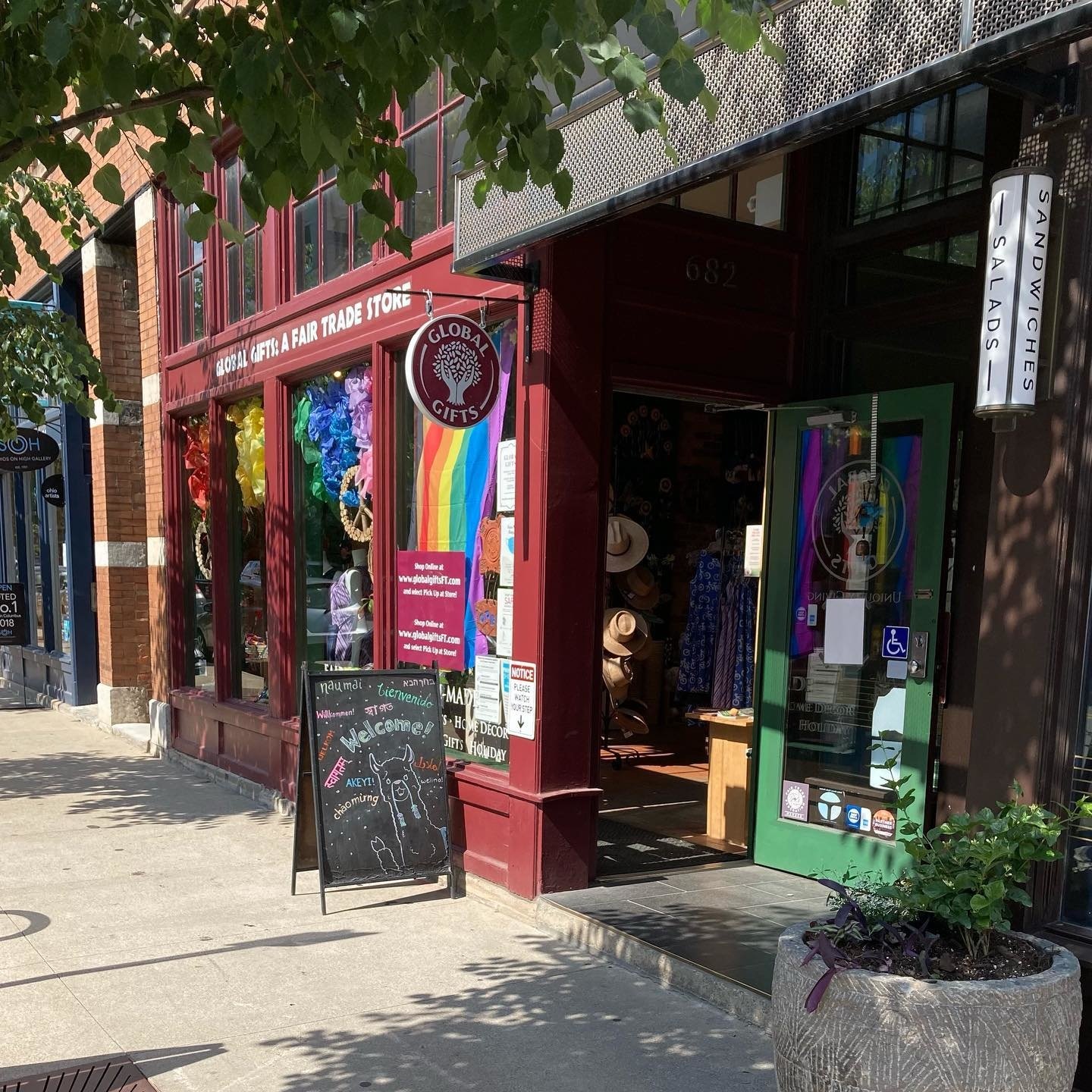 Our Short North store front.