This month, our team at Nora had a chance to recognize an outstanding volunteer and they nominated Marcella!
Here's why: 
Marcella has been a volunteer with Global Gifts since 2011. Within the last few years, she has been volunteering almost every week at our Nora location and always goes out of her way to pick-up last-minute shifts throughout the month. When she isn't making more time for Global Gifts, she is also the Volunteer Coordinator for Family Promise; a nonprofit that helps families experiencing homelessness and low-income families achieve sustainable independence through a community-based response. In 2019, Marcella found a way to bring her two passions together by requesting we host a Community Shopping event every year for Family Promise. We admire her drive to use her connections in a way that benefits more people! Another reason we love Marcella is because last year at the start of the pandemic, she donated her sewing skills to create masks so that all staff and volunteers would have one available when our stores reopened. Finally in 2021, Marcella was happy to represent Nora on the board as our Volunteer Ambassador. Long story short, Marcella generously offers her skills and time to our organization. Words cannot describe how much we appreciate Marcella!! From all of us at Nora, thank you for your 10 years of service!
We got to talk to Marcella about her experience as a volunteer. Here's what she had to say.
What inspired you to begin volunteering at Global Gifts?
My daughter told me I should start volunteering there because I had left my job and had a lot of spare time.
What is your favorite thing about Fair Trade and/or Global Gifts?
I enjoy interacting with the staff and the volunteers. I also like walking around the store finding new products.
What is your favorite Fair Trade product or artisan group?
I like the jewelry. I have to use a lot of self control not to buy a new pair of earrings every time I go in.
Do you have a favorite country where Fair Trade products are sourced and represented in our stores?
Guatemala
Any advice for new volunteers?
If you're feeling overwhelmed by all the things you have to learn and do, be patient with yourself, and always ask for help when you need it.  There's a good reason there are always 2 volunteers or staff members in the store.  It took me about 3 months to really feel competent when I started volunteering. It helps to volunteer frequently so you don't forget things in between your shifts.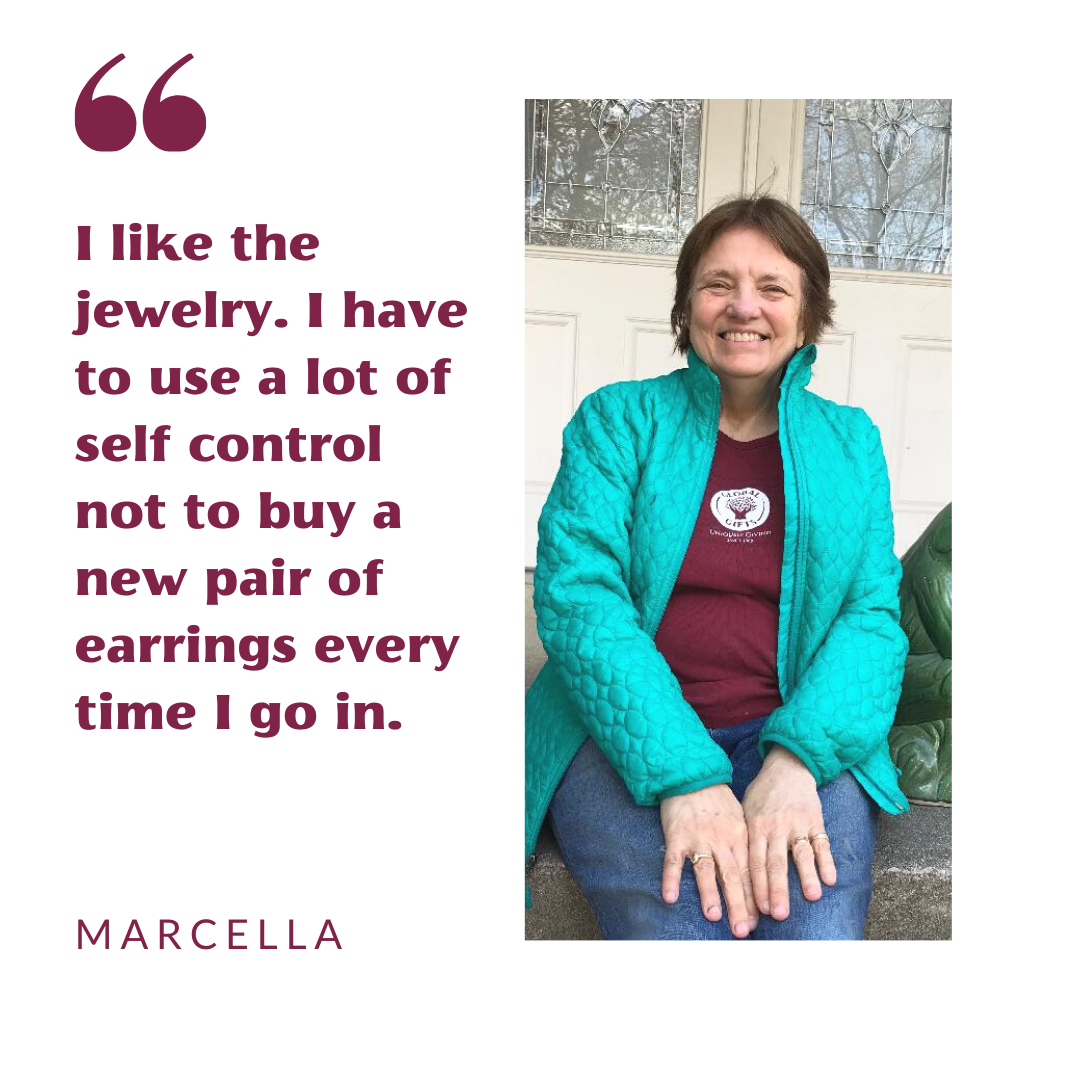 Feel inspired to join our team?
We always need volunteers and we'd love to have you! You can submit an application online here.