Ellen Robinson has volunteered with us at the Mass Ave location in Indianapolis since February 2011. When it came time to pick our volunteer of the month, she was an easy choice!
Here's why: 
Ellen was a fan of Global Gifts from the very beginning. She first heard of us through a story feature on National Public Radio.
Nowadays, Ellen typically works Friday evenings as a key volunteer. Key volunteers can open and close the store and assist with training as needed too.
We love Ellen for her calm and gentle demeanor. She remains clear headed even when the store customer count is at its peak. She is a loyal volunteer and patron so we were so happy to have her rejoin our GG family after a brief break due to Covid! Ellen asks good questions and often makes astute observations about customers, products and processes.
From all of us at Global Gifts on Mass Ave, we thank Ellen for her endless dedication, passion and support. Mass Ave wouldn't be the same without her!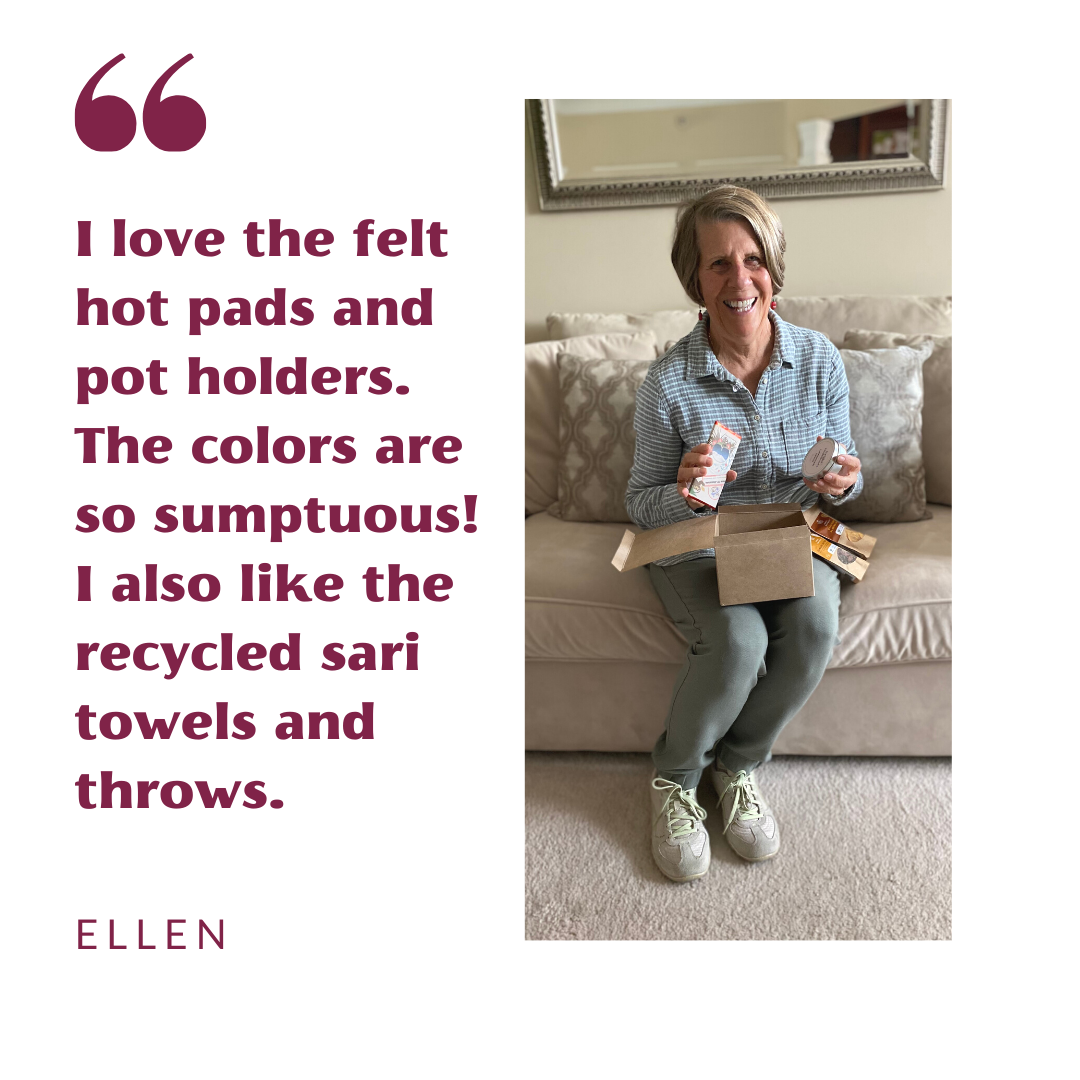 We got to talk to Ellen about her experience as a volunteer. Here's what she had to say: 
What inspired you to begin volunteering at Global Gifts?
I had been retired for about two years and the elation of not working had begun to wear off. I was looking for something to do and I remembered Global Gifts. I had been a loyal shopper for years, actually, from the very first store that opened in Indiana. I walked by the store almost daily and liked the mission, products and people.
What is your favorite thing about Fair Trade and/or Global Gifts?
Its mission: I love that what we do here helps people who are struggling in a very personal and direct way.
What is your favorite Fair Trade product or artisan group?
I love the felt hot pads and pot holders. The colors are so sumptuous! I also like the recycled sari towels and throws.
Do you have a favorite country where Fair Trade products are sourced and represented in our stores?
I don't have a particular favorite but I am drawn to those countries that utilize a variety of colorful fabrics.
Any advice for new volunteers?
Be open to interacting with the customers and hearing their stories. For the retired volunteers, try to space your volunteer shifts close enough so that you can remember all that you need to per shift.
Feel inspired to join our team?
We always need volunteers and we'd love to have you! You can submit an application online here.