Since Global Gifts' start in 1988, Cindy Mast has been volunteering for this organization. Therefore, we had to make her our first Volunteer of the Month at Nora!
This is what our Nora team has to say about Cindy: 

Cindy is kind, curious, and patient. She is always thinking about the customer, what they are looking for, and searching for answers to any questions they have. She keeps us researching to find out more about our products, how they are made, and where they come from. She brings a unique perspective, and her questions spark change! Cindy often finds mistakes and "weird things" faster than most because she understands the importance of the details and knows how they can make an impact in the long run.

Another thing we love about Cindy is her generous and selfless nature. She is willing to do anything and everything we need at any moment, including working more than the average volunteer. Since the beginning of the year, Cindy has been volunteering twice a week most weeks! She has already banked over 100 volunteer hours, not including May! Keep in mind, she also volunteers with Meals on Wheels, the zoo, and an apple orchard during some parts of the year. She keeps herself busy, but always makes time for us.

All in all, Cindy is an absolutely wonderful human being, and we are extremely grateful for her years of dedication to our mission!
Courtney, a newer staff member who has been working with Cindy a lot, says:
"Cindy is just precious. She can start a conversation with anyone... about anything. Cindy also gives wonderful gardening advice, which I really appreciate. I've never met someone who has been so dedicated to an organization like this in my entire life. Being involved with Global Gifts for 30 years is pretty incredible! "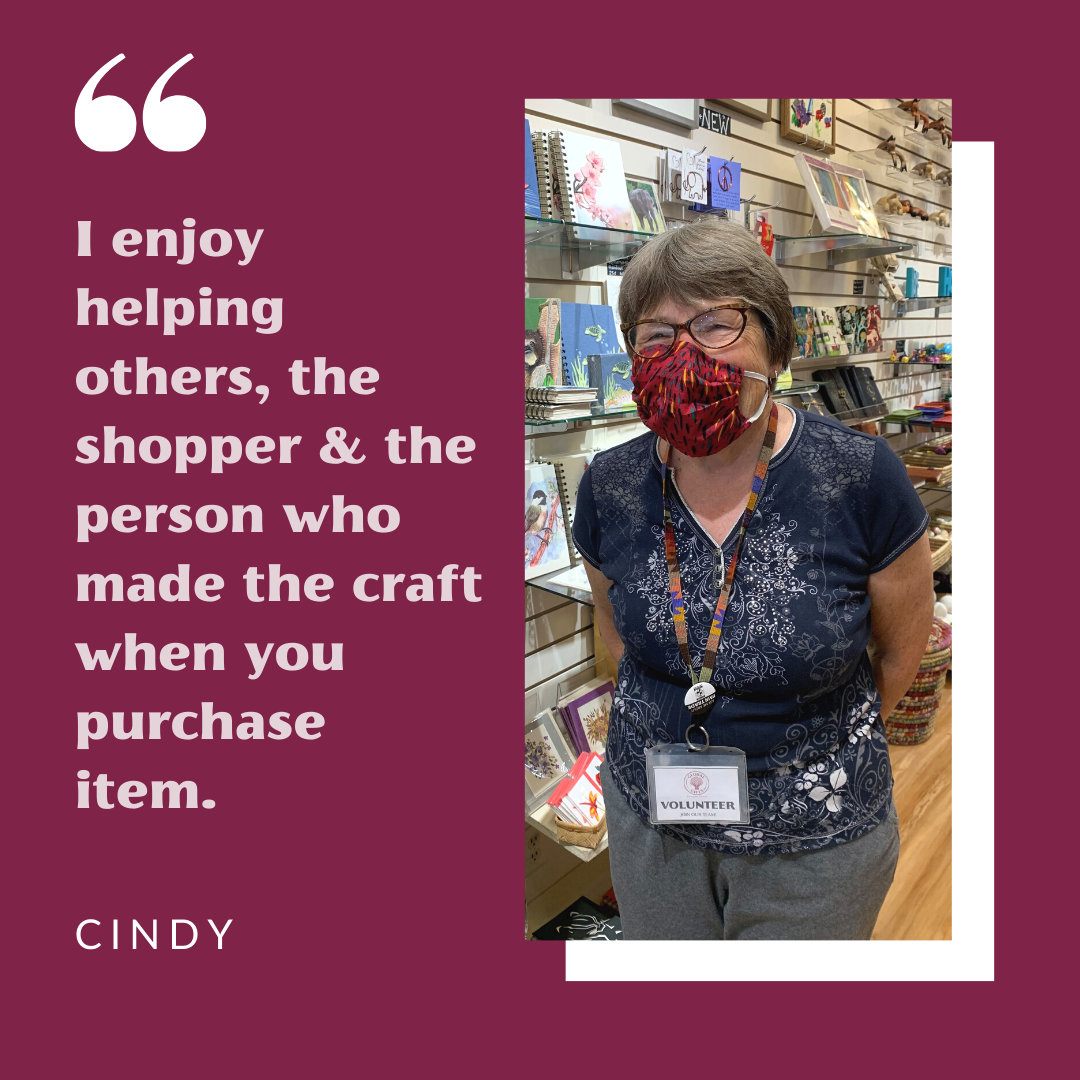 We got to talk to Cindy about her experience as a volunteer. Here's what she had to say: 
What inspired you to begin volunteering at Global Gifts?
I like the idea that when you purchase an item you are helping an organization & a person. Many years ago, our church used a room to sell items and that was the start.
What is your favorite thing about Fair Trade and/or Global Gifts?
Even if you can't visit a country, you can support it by buying a craft from it. Also, we don't have to check the organization to make sure it is fair trade because it is done for us.
What is your favorite Fair Trade product or artisan group?
I like all the special products made from local products. Butterfly jewelry, tire tread products, elephant pooh & many others.
Do you have a favorite country where Fair Trade products are sourced and represented in our stores?
We traveled to South Africa which is a very poor country. We also visited Southeast Asia where we visited the many street markets where families sold their crafts, so i enjoy seeing those same items for sale at Global Gifts.
Any advice for new volunteers?
I enjoy helping others, the shopper & the person who made the craft when you purchase item.
Kinsey, Kim, Anne &many others are willing to help if I have any questions.